TCS buyback ki Pathshala: Should you tender shares, process and more—Anil Singhvi answers these 17 questions that investor needs to know
IT giant Tata Consultancy Services (TCS) has announced Rs 18,000-crore buyback offer.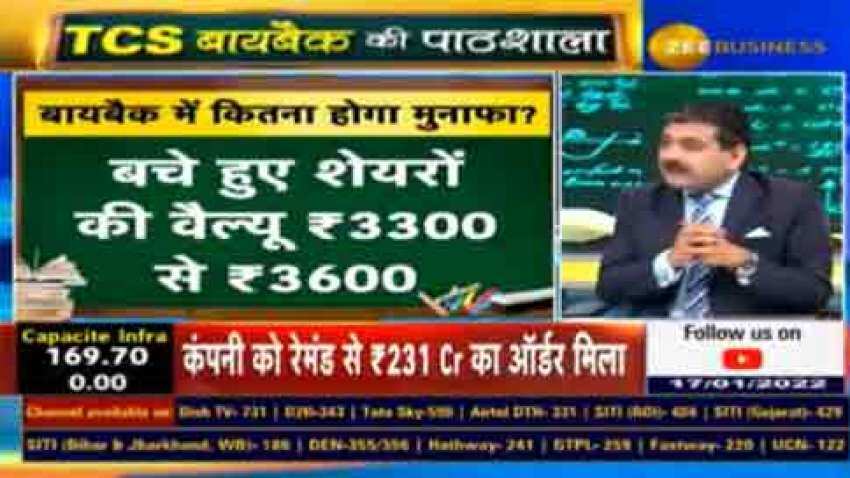 The India's largest IT company will buyback 4 crore equity shares worth Rs 18,000 crore at a price of Rs 4,500 per share
IT giant Tata Consultancy Services (TCS) has announced Rs 18,000-crore buyback offer. The India's largest IT company will buyback 4 crore equity shares worth Rs 18,000 crore at a price of Rs 4,500 per share, as announced by the company. Zee Business Managing Editor in a special show "TCS Buyback Ki Pathshala", explains what is buy back? should your tender shares? process to tender stocks, what does companies do with buy back and more. In conversation with Senior News Anchor at Zee Business Neha Anand, Anil Singhvi explains everything an investor needs to know about TCS buyback and in genral. Excerpts from the show.  
Q What is buyback?  
Ans: Whan company buys their own shares, it is called buyback. The buyback is a corporate action in which a company buys back its shares from the existing shareholders usually at a price higher than market price. Companies uses surplus money to execute this exercise. 
Q. Why does company buyback their shares? 
Ans: The company uses extra cash through share buyback. This is when company does not want to use surplus amount for its expansion plans.   
TCS के बायबैक में मौजूदा निवेशक कैसे हिस्सा लें?#Buyback में शेयर टेंडर करें या नहीं?
शेयर टेंडर करने के क्या हैं तरीके?
अलग-अलग खातों से टेंडर कर सकते हैं?#TCS के शेयर नहीं हैं तो क्या करें

देखिए @AnilSinghvi_ के साथ TCS की पाठशाला@Neha_1007 https://t.co/mVKy8Wpuls

— Zee Business (@ZeeBusiness) January 17, 2022
Q. Why buyback and not dividend?   
Ans: A Dividend incurs dividend distribution tax. A good company does not only give dividend regularly but also comes up with buyback offer time and again.    
See Zee Business Live TV Streaming Below:
Q How many types of buybacks are there? 
Ans: There are two categories of buyback—Open market and Tender offer.  
Q Why TCS is buying back its shares?   
Ans: India's largest IT company almost every year has free cash flow of Rs 30,000 crore. This is its way of using that cash flow.  
Q TCS Buy back details? 
Ans: Size: Rs 18,000 crore for buyback of 4 crore shares. This buyback is of 1.08% of the total shares. 
Rate: Rs 4500 per share  
Q Can anyone take part in buyback?   
Ans: Only shareholders of the company can participate in this exercise. The shareholders are eligible for dividend and buyback once they have company's shares in their demat account on record date.  
Q How does existing investors can take part in this buyback?  
Ans: Existing shareholders can take part via retail category. If you have shares up to Rs 2 lakh, you will be considered a retail investor. One can maximum hold 20,0000/4500 (in TCS case)= 44 shares in their portfolio to be eligible for this buyback, where Rs 200000 is the total amount and 4500 is buyback price.  
Q Two dates are important in a buyback 
Ans: 1 Record date: You should hold shares of the company concerned in your demat account on this date.  
 2. Last date of buyback: It is important that you tender you shares to the company by this date.  
Q Process to tender shares in buyback 
Ans: Process 1: One you can fill the form made avilable company and submit to your broker and the broker will submit it to the company or  
Process 2: If you have note received buyback letter from the company, an investor first needs to download the form from the company's website. Now, fill the form and submit it with your broker, which will further tender you shares to the company in question.  
Process 3: Transfer the buyback shares from your demat account to the company's demat account.   
Q How many shares have the probability of acceptance in case of TCS buyback?   
Ans: As per the expectations of the market, around 18-24 shares are likely to be approved.  
Q How much profit does an investor sees in TCS buyback 
Ans: A profit of around Rs 535 is expected on 18-24 shares of TCS. Remaining shares value will be in the range of Rs 3300 to Rs 3600 
Q. Can shares be tendered from different accounts?   
Ans: An application for buyback shall be made from the original shareholder's name only. There is only one buyback applicable on one pan card. Applications made from different accounts will serve no purpose.  
Q. What should one do in case he/she does not have a TCS share?   
Ans: One should buy shares from the market. One can buys TCS shares on dip before buyback.  
Q. Can one resort to hedging in Futures market?  
Ans: Hedging makes no sense for retail investors. One can only hedge share when they have them in huge numbers.   
Q. Should one tender share in TCS buyback or not?  
Ans: Short-term investors should definitely tender, while long-term investors should stay put with their shares. This buyback offers more profit in comparison to FD in short term. On investment of 1.5 months, TCS buyback ensures a profit of 5%.   
Q. Is there any risk in this buyback?   
Ans: There is only one risk that company has the right to cancel a buyback  
Get Latest Business News, Stock Market Updates and Videos; Check your tax outgo through Income Tax Calculator and save money through our Personal Finance coverage. Check Business Breaking News Live on Zee Business Twitter and Facebook. Subscribe on YouTube.
Updated: Mon, Jan 17, 2022
12:40 pm
Patna, ZeeBiz WebDesk