Rs 4,000 cr recovered from stressed accounts so far this year: Dinesh Kumar Khara, SBI Chairman
Dinesh Kumar Khara, Chairman, State Bank of India (SBI), talks about Q2FY22 numbers, recovery, slippages, IBC resolutions and his outlook on credit growth among others during an exclusive interview with Swati Khandelwal, Zee Business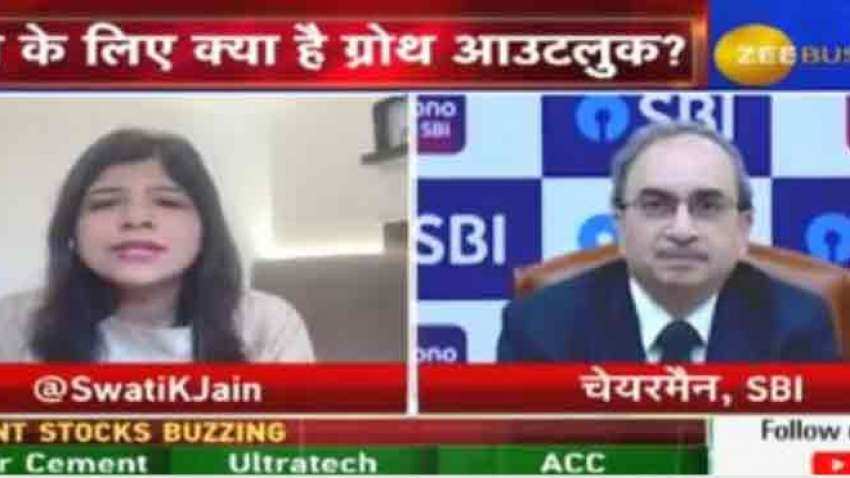 "As far as corporate credit is concerned, we had started identifying stress ahead of time in the last few years and simultaneously started making provisions for it."
Dinesh Kumar Khara, Chairman, State Bank of India (SBI), talks about Q2FY22 numbers, recovery, slippages, IBC resolutions and his outlook on credit growth among others during an exclusive interview with Swati Khandelwal, Zee Business. Edited Excerpts:
Q: Congratulations on the good numbers for Q2FY22 and the bank has certainly beaten the street estimates. Let us know about the highlights of the quarter and what are the important takeaways?
A: It is a proud movement to present the set of results. But would like to add that the work done by our team is commendable because after the first quarter, we were seeing some stress in our retail assets but the way it has been pulled back is a result of the work that our team did at the ground level. Due to it, we have strengthened our process and in it, we have increased our collection calls by almost 10 times. At the same time, we have also started calling before the ENI turns due to which our consumers can conserve their cash flows and repay the EMIs on time. This is concerning retail. As far as corporate credit is concerned, we had started identifying stress ahead of time in the last few years and simultaneously started making provisions for it. This is a reason that we cannot see huge stress in our corporate book and whatever stress is visible has been provisioned well. So, I do not think that in the coming days, we will experience any stress from these two sectors.
See Zee Business Live TV Streaming Below:
Q: How has been the demand and recovery trend in this quarter? We have seen a decline in the fresh slippages but can you tell us about the pockets from where you are getting slippages and they are still weak?
A: The slippages are mainly from SMEs while certain slippages were from the home loan sector. But it has been observed that the occurrence of slippages and recovery in it is a function of cash flow, as there was an improvement in cash flows of people, recoveries also became visible. So, the slippages that are visible at present are not similar to the slippages that were seen in the past which used to be stubborn but I would like to add that we had restructured around Rs 30,000 crore our total book - comprising restructuring 1 and 2. In front of it, we have COVID-related provisions of around Rs 6,000 crore. We through our probability and seeing the default of the past few years by looking at the data we have, it seems that 70% will survive and 30% slips down in it. So, from that aspect, we may need around Rs 9,000 crore against Rs 30,000 crore in odd situations. But, we believe that the nature of these slippages are quite different as compared to what it was in the past. I feel that we have already made the provisions that were required for this Rs 30,000 but we will monitor closely and if the requirement arises, provisions for the same will be done. But I do not think that there will be a need for any further provisioning.
Q: If we will have a look at some important accounts then we have seen a lot of things like the recovery of DHFL in this quarter. What is an update on SREI and how much provision has been made on the account? What exposure do you have in the telecom space, specifically what is an update on Vodafone Idea and if there is a need for them to raise fresh funds then will you participate in it or not? So, what the closure of a few big accounts will mean for the bank?
A: DHFL has already been resolved, so there is no issue to be worried about it. As far as SREI is concerned, we have already made 100% provision for SREI. The third account you have spoken about is Vodafone then due to the telecom policy prepared by the Government of India we are getting encouraging responses from the promoter. At the same time, if seen in terms of payment records then they have paid their payment on time. So, the account, which was a matter was slight concern in the previous quarter is not a matter of particular concern. 
Q: IBC resolutions are coming and many cases are being settled. So, what kind of recoveries should we expect with big cases like Jaypee, ISMT and are they expected to be cleared soon? Also, overall, what is the number at which you are working for the end of this year?
A: I would like to inform you about an overall trend that we had plans of recovery around Rs 8,000 crore this year from the stressed accounts. Out of that, recovery of around Rs 4,000 crore has already been made and I believe that the remaining Rs 4,000 crore will also be made. And as far as recovery is concerned, the track record will be maintained.                                                                          
Q: Going forward, how the credit growth looks like and what cues are visible and what credit growth guidance will you provide? 
A: It is so that credit growth is the function of capacity utilisation, which stands just around 60% in the economy, at present. But, the demand has revived a bit, we have seen it in October, due to which we have seen slight growth in corporate credit as well. I would like to say that we have un-availed limits of around Rs 4 to 4.50 lakh crore, which is working capital is around 2.35 lakh crore and unavailed term loans of around Rs 2.25 lakh crore. In total, we have a pipeline of around Rs 4.60 lakh crore and its availment will start as soon as there is an improvement in the capacity utilisation. At the same time, proposals of around Rs 1.15 lakh crore are pending with us, which is being processed at present. In total, proposals of around Rs 5 to 5.50 lakh crore is in process. So, if we will make a reasonable estimate from it then I feel that by March 2022, the credit growth which is 6.17% will reach around 10%. 
Get Latest Business News, Stock Market Updates and Videos; Check your tax outgo through Income Tax Calculator and save money through our Personal Finance coverage. Check Business Breaking News Live on Zee Business Twitter and Facebook. Subscribe on YouTube.
Written By:
Jitesh Kumar Jha
Updated: Tue, Nov 09, 2021
09:58 am
Patna, ZeeBiz WebDesk