I want to turn Vedanta into a technology-driven company: Anil Agarwal, Chairman, Vedanta
Anil Agarwal, Chairman, Vedanta Group, speaks about his expectations from the Union Budget 2021-22, opportunities he sees in the divestment of BPCL and other PSBs, plans related to investment, commodity prices, new strategy during an interview with Swati Khandelwal, Zee Business.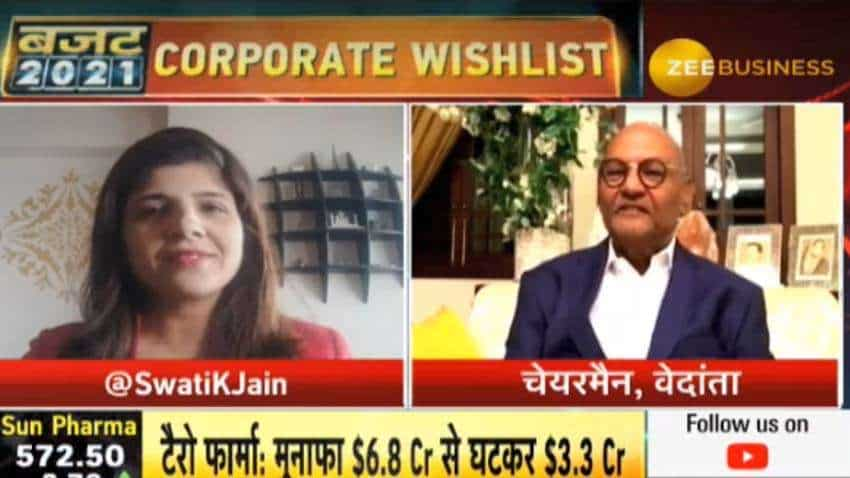 Anil Agarwal, Chairman, Vedanta Group, speaks about his expectations from the Union Budget 2021-22, opportunities he sees in the divestment of BPCL and other PSBs.
Written By:
Jitesh Kumar Jha
Edited By:
Jitesh Kumar Jha
Updated: Fri, Jan 29, 2021
01:42 pm
New Delhi, ZeeBiz WebDesk
Anil Agarwal, Chairman, Vedanta Group, speaks about his expectations from the Union Budget 2021-22, opportunities he sees in the divestment of BPCL and other PSBs, plans related to investment, commodity prices, new strategy during an interview with Swati Khandelwal, Zee Business. Edited excerpts:
Q: Everyone has their eyes on this year's budget. What are your expectations from the finance minister?
A: I can say that the finance minister and entire machinery is engaged and is accessible to people from every section and anyone can give suggestions to it. The highest priority area for me is that the tax on salaried class should be bought down so that some more money reaches into their hands and they can increase their spending. This is important. At the same time, I can talk about the areas to which I belong and there is a need to increase production in India, and more industries should be established. They have a lot of attention in the area of electronic, start-up and MSME areas and more work should be done in these areas. If you ask me to go specific on areas related to me than for instance, Oil & Gas, the segment where India is vulnerable because we make only 15% of our oil, although, there is 70 billion barrels of oil is present in India and how it can be brought out. Today, we are the one who makes oil in India. In India, the highest tax is slapped on oil and it should be made equal to the rest of the world or below that so that people can come to India and start producing it. It is very important. 20% of cess is imposed on oil, which should be brought down to 10%.
Q:During our previous interactions, you have always said that the government has no business to be in business and the government also agree to it, this is a reason that it is working a lot disinvestment. Interestingly, you have shown an interest in BPCL. So, what kind of updates you can provide to us about the synergies associated with the disinvestment of BPCL? 
A: The world will do it and hundreds along with us have come forward because India is an opportunity, fewer people want to go to China and more people wants to come to India, as it is a democratic company and have human resource, natural resource and intelligence resource, following it the atmosphere of privatization and corporatization has been created. Interestingly, BPCL is a natural extension for us. We make oil and can provide whatever oil that is produced at our place to BPCL so that their capacity can be completed. We will evaluate it - have not evaluated it yet - and after evaluation, if we will open a fund maybe of $10 billion as we can do it through that fund and in this, we will see that will it benefit to our investors or the country than we will participate in it.
Q: Let us know about the response that you are getting on the open offer about which an update was provided some two weeks ago and by when it will be completed? What is an update on it?
A: Vedanta is a flagship company of India and we have acquired 5% shareholding in Vedanta Resources Limited, which is our London-based company and have made an offer for another 10%. Combining the two, we will have 65% stakes and we are very comfortable in doing so. So, this is our plan for Vedanta. We will increase our production by around 30-40% at Vedanta by installing balancing equipment in our existing companies. A small CapEx will be used for the purpose and whatever CapEx will be used in it will come from our internal resources. This will help us in increasing production. Going forward, oil & gas, aluminium, zinc and silver look good to me.
Q: Let's talk about the commodities and there have been tremendous price hikes in the segment in the last few months. Actually, the prices have skyrocketed. What is your outlook on the commodity prices and at what level they will stabilize?
A: They have not skyrocketed yet but have reached the top floor of the building and can touch the sky. I feel that way because no new mines are opening, and the production cost is too high. So, it is very important to manufacture things in India as we are importing almost everything to the country. The more is produced, the more Atmanirbhar (self-reliant) we will turn.
Q: Do you think that the commodity prices will rise even from these levels or it will stabilize at these levels, itself? 
A: The commodity has just 20-30% involvement in the finished goods, the remaining is the processing charge. Interestingly, the technology including digital and the one that is developing mitigates it. So, I don't think that amid the existing technology and efficiency, it will put a lot of pressure on the consumers. But it will definitely encourage the production of goods within India, which will help us in being competitive in the world.
Q: At the Group level, in the corona period, what strategy was devised and what changes will be brought in place? Also, tell us about the areas of focus and the sectors where good growth is expected with a long-term view? What is the Group's target for the next five to ten years? 
A: First of all, our company will emerge as a technology-driven company in everything, and everything will be based on digitalization. We have hired the world's best technician so that our company turns into a technology-driven and digitalized driven company. Secondly, we have a great focus on ESD, and you would have seen that Dow Jones has ranked us at 12th position, which is a big accomplishment in the field of environment. So, our ESD, in which our environment, safety and discharge, should be the best in the world and we are focusing a lot on it. Going forward, we are looking forward to our technology company STL. We have a very big capacity in software, and we are looking at how to take the software business ahead. We are also paying a lot of attention on wireless, and we have promised to India that we will lay down fibre across the nation in the able leadership of Prime Minister Modi. 
Q: Vedanta Group is known for looking forward towards good business opportunities. So, let us know about the companies and business that is under your lenses at the global or domestic level where you are looking forward to M&A opportunities?
A: India has announced divestment of 15 companies, like NMDC, Container Corporation, Shipping Corporation, Hindustan Copper, BEML, and we will evaluate these companies and through the fund will look - it will be independent - the available opportunities. We are expecting a lot from the government and it is also doing so to increase production. India has a lot of capacity that we can establish big companies like Alibaba and Amazon. For this, we need multiple rights, and the government should allow this in this year's budget so that the entrepreneur can have a control on it, which is available across the world. 
Get Latest Business News, Stock Market Updates and Videos; Check your tax outgo through Income Tax Calculator and save money through our Personal Finance coverage. Check Business Breaking News Live on Zee Business Twitter and Facebook. Subscribe on YouTube.